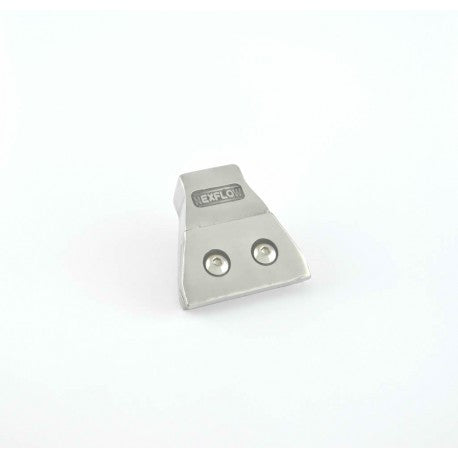 47011S-316L-28 316L Stainless Steel Air Edger Flat Jet -.028" gap
Model 47011 Air Edger™ Flat Jet Air Nozzle is designed to provide a powerful stream of high velocity laminar flow and high force for blow off and cooling where air knives may not be enough. Air knives are ideal for liquid and dust blow off, but when heavier material requires extra "force" to move, this product does the job well.  The internal chamber and outside shape are optimally designed to convert the pressure normally lost in the form of noise and pressure drop into useful flow and force.  The product uses the "Coanda Effect" to effectively "amplify" air flow in such a way as to reduce energy and exhaust noise while maintaining a strong blow off force.
When bench tested against several other flat jets or flat nozzles, even those with special designed holes or saw tooth style shims, the Air Edger™ Flat Jet Nozzle outperformed them all. Air consumption and noise levels are minimized with its special design and configuration while providing a strong blow off force.
In your specific application the gap set by the shims should be no more than necessary to minimize energy use.
Applications include:
Part cleaning
Chip removal
Part drying
Part ejection
Air assist
---
We Also Recommend